Good morning, squiders! I've got a fun fantasy comedy story for you today. Take a look and see if it appeals to you!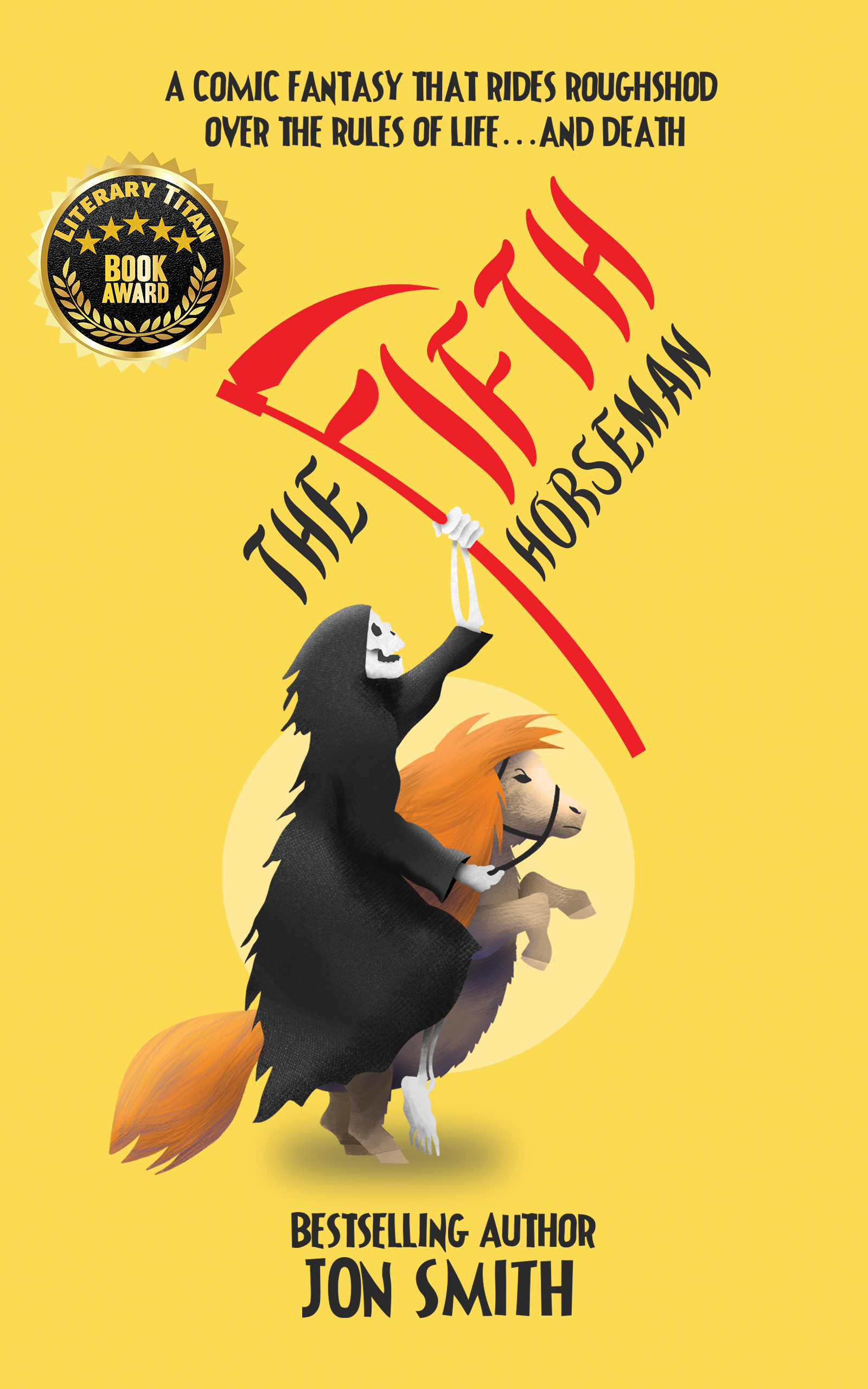 Comedy/Fantasy/Mythical Realism/Fiction
Date Published: 02-07-2023
Publisher: Balkon Media
Internationally published bestselling author Jon Smith makes his adult debut with The Fifth Horseman, a modern comic fantasy that rides roughshod over established mythology and the rules of life… and death.
The Fifth Horseman is a darkly comic tale of two thirty-somethings caught between our world and the afterlife, who must embrace their role as reapers to prevent the End Times. The Hitchhiker's Guide to the Galaxy meets Father Ted, perfect for fans of Ben Aaronovitch, Terry Pratchett, and Neil Gaiman.
Death is just a day job you can't quit…
Emma and Mark had a bad day. The worst part of it was dying. But, according to Death, the Rider on the Pale Horse and first horseman of the apocalypse, things aren't that simple. Turns out the sand in their hourglass is stuck in place. Somewhere between life and death, they're put to work as Death's assistants, reaping the souls of the living until it's time for their final clock out…
To compound matters, despite their omnipotence, the four horsemen are facing an existential threat – one they're ill-equipped and ill-prepared to combat.
Emma and Mark must reap like their afterlives depend on it, to help prevent the End Times – even if it means scuppering the one opportunity they have at being granted a second chance at life.
Filled with humour, romantic tension, and suspense, Jon Smith utilises a witty, lightly sarcastic ensemble of flawed but loveable characters. It will appeal to mainstream fantasy readers and hopeless romantics, as well as those who enjoy a good story and a good laugh.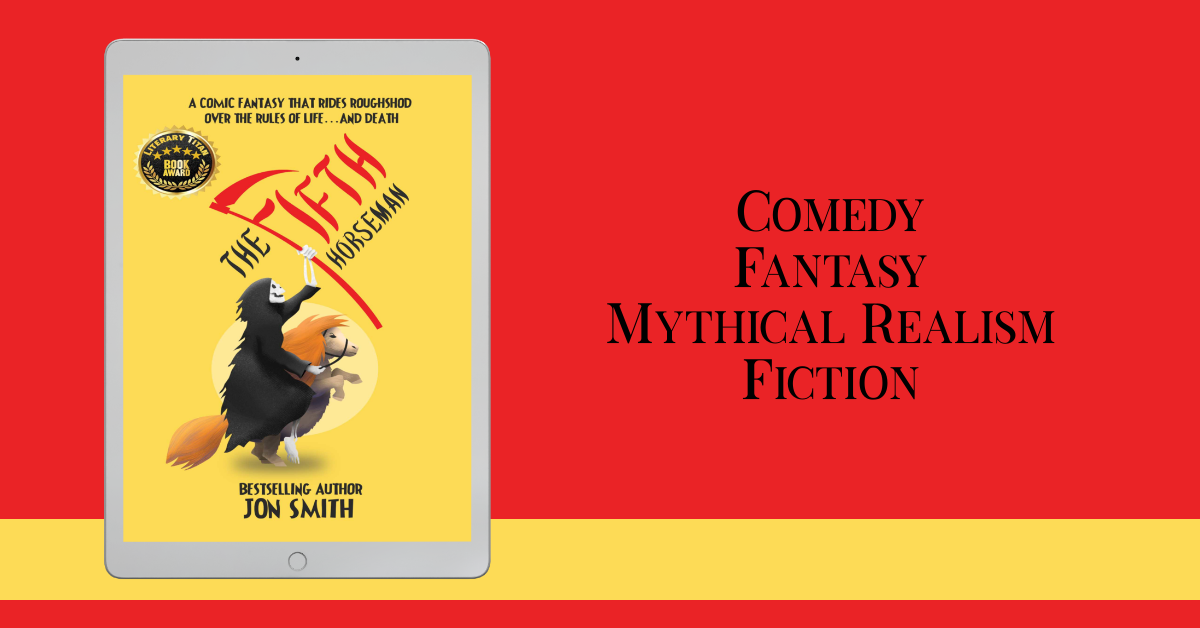 About the Author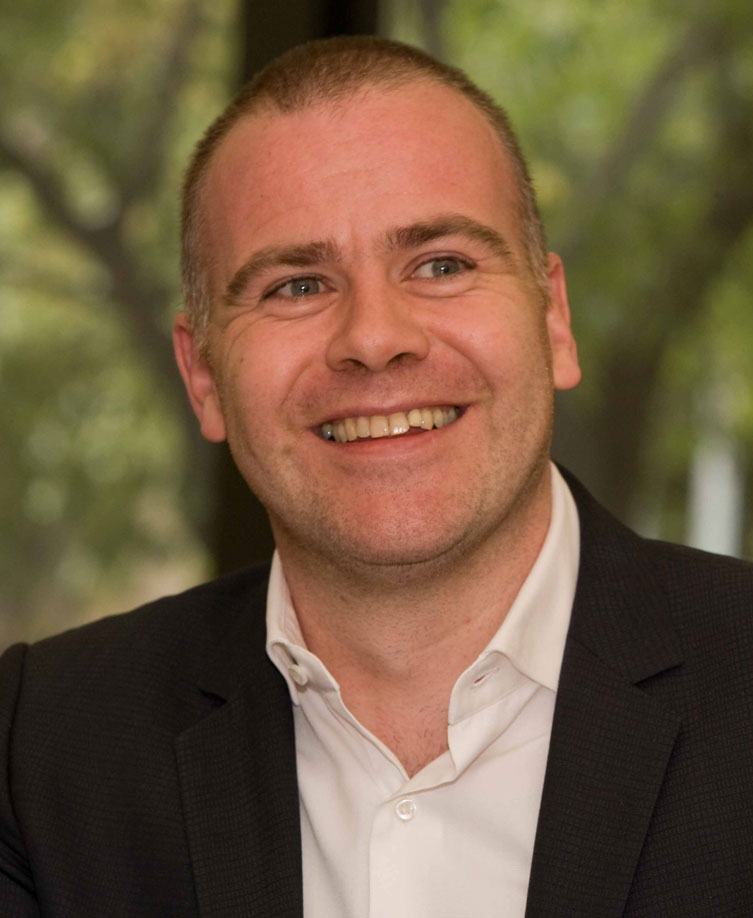 Jon Smith is the bestselling author of 14 books for children, teens, and adults. His books have sold more than 500,000 copies and are published in seven languages.
In addition to writing books, Jon is an award-winning screenwriter and musical theatre lyricist and librettist with productions at the Birmingham Hippodrome, Belfast Waterfront and London's Park & Waterloo East theatres.
Jon enjoyed a happy childhood—making daisy chains, holidays in the sun and an obsessive interest in all things fantasy. No brace, few spots and only one broken bone and one broken heart (not his). It all went swimmingly.
Father of four, he lives near Liverpool with his wife, Mrs. Smith, and their two school-age children. When he grows up he'd like to be a librarian.
Contact Links
Purchase Links
a Rafflecopter giveaway
https://widget-prime.rafflecopter.com/launch.js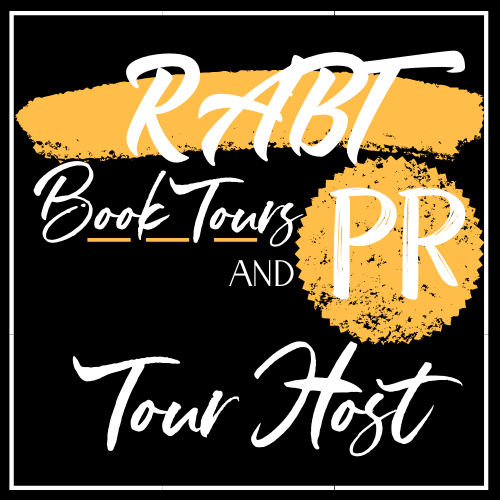 Excerpt:
Emma reached out to steady herself on the copper base of Bella, the magnificent Liver Bird that stands sentinel atop a white dome, looking out over the River Mersey and across to the Wirral and North Wales.
Her legs shaking from both effort and fear, she stopped for a moment to try and catch her breath. She ran a hand through her long auburn hair, gulping in oxygen and regretting cancelling her gym membership earlier in the year. A strong and sudden gust of wind hurtled in from the Irish Sea, its elemental tendrils clawing at the exposed skin of her hands as the cold sting brought tears to her eyes. Whilst she rued her choice of the landmark building, realising that not for the first time she'd let form take precedence over function, she paused to appreciate the stunning waterfront vista forged in blood, sweat, and tears by the city's maritime and cultural history, both old and new, good and bad.
Why the clowns at UNESCO had stripped the city of its World Heritage Site status would forever remain a mystery.
However, with typical scouse nonchalance, she parked that train of thought and tried to focus on the task at hand.
Everyone was out and about – on Pier Head, on the Strand, on their phones – busy with their day. Busy with their lives. Not many people looking up, which suited Emma just !ne. She was used to being ignored. Used to just blending in. It was a learned behaviour that had started when she was a child, living under the strict rules of her parents, who firmly believed that children should be seen and not heard. She had trained herself to remain quiet, remain small, and remain in the background. It made for a lonely childhood but a peaceful one.
But much to Emma's chagrin, once she'd left for university, she found it difficult to unlearn, and thus difficult to make and maintain friendships. Or to be noticed by lecturers, even if she had her hand in the air. Or to be noticed by boys, despite being single and very much ready to mingle.
However, what wound Emma up most was not being noticed at work, no matter how diligent she was or how many new accounts she brought in. It was never Emma who was celebrated in the company newsletter, and it was never Emma who was put forward for promotion. Emma was just… there. A safe pair of hands at the back of the room. Reliable Emma. Wouldn't say boo to a goose Emma. The same Emma who'd just been handed a P45 and a beautifully written termination letter with her last and middle names mixed up. That's how well management and colleagues had got to know her in eighteen months.
For once, standing next to the symbol of Liverpool, over three hundred feet above the city, she was grateful that no one noticed her. She didn't really feel like looking back at them. She wasn't there to be gawked at or be made into some kind of sideshow on the street.
Not until after she jumped, of course.